FAA's Automatic Dependent Surveillance-Broadcast service (widely abbreviated as ADS-B) brings significant values for those aircraft that install new equipment. LSA market leader Flight Design recently completed the first installation of this in one of its brand-new CTLSi models, which are powered by the fuel injected Rotax 912 iS engine. The newly equipped aircraft made its debut at the 2013 U.S. Sport Aviation Expo in Sebring Florida.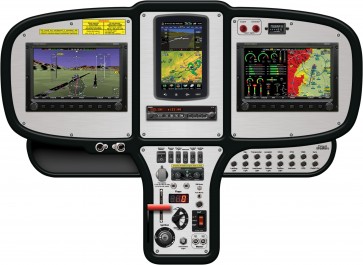 "We were pleased to work with one of our newest dealers to add new ADB-S equipment into our CTLSi," said Flight Design CEO Matthias Betsch. "Brian Boucher's Florida Light-Sport Aviation company based at the Spruce Creek Fly-in near Daytona Beach, Florida has the first of what is sure to be many such installations."
ADS-B equipment for the installation is built by Dynon Avionics, a Flight Design supply partner that also builds the SkyView digital avionics suite used in the CTLSi models. A separate hardware module was added behind the 10-inch screen and connected to an antenna on the belly of the aircraft.
An ADS-B equipped aircraft like CTLSi uses an ordinary GPS receiver to determine a precise position from GPS satellites and then combines that position with other aircraft information such as speed, heading, and altitude. This information is broadcast to other ADS-B capable aircraft and to ADS-B ground, or satellite communications transceivers which then relay the aircraft's position and additional information to Air Traffic Control centers in real time. It is seen as the "next generation" of air traffic control and gives this information directly to pilots in addition to controllers.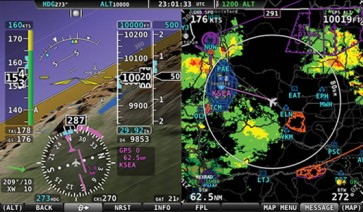 Dynon Avionics said, "The new SV-ADSB-470 unit offers subscription-free weather displayed on SkyView, including NEXRAD radar, METARs and TAFS. Airport weather data can be displayed for nearest airports or for a specific airport identifier." Dynon added, "ADS-B receives TIS-B traffic information with precise location, altitude, speed, and direction from broadcast from other ADS-B equipped aircraft along with data broadcast from ADS-B ground stations, presuming the aircraft is equipped with the correct transponder." Additionally TFRs can be shown even though these are temporarily restricted areas.
"We were pleased to show a CTLSi equipped with ADS-Dynon's new unit at the Sebring U.S. Sport Aviation Expo 2013," said Flight Design USA president Tom Peghiny. "We highlighted this equipment in our exhibit at the event and had staff and dealers to explain the value in this new equipment. Both our new Florida dealerships will also be represented at the Sun 'n Fun show in April along with dealers from around the country."
FACTS ABOUT FLIGHT DESIGN GmbH
Flight Design is a 24-year-old manufacturer based in Germany. The company remains the worldwide Light-Sport Aircraft market leader thanks to its popular CT series of aircraft. More than 1,700 of these aircraft are flying in 39 countries. One of the first aircraft certified under ASTM International standards in 2005, the CT ("composite technology") remains the top-selling LSA in America through six consecutive years. Flight Design sold the first LSA to India and was the first LSA to earn Chinese Type Design Approval. Three times a CT has been flown around the world. In 2011, the German company unveiled its C4 four seat aircraft based on the CT technology.


Leinfelden-Echterdingen, GERMANY / 14 November 2012 – The U.S. Light-Sport Aircraft sector is just eight years old and the first FAA-accepted aircraft began arriving in 2005 and Flight Design GmbH has been involved with aircraft development and manufacturing aircraft for 25 years. To mark this celebration milestone, the company is offering a special "Jubilee" series of their models with unique features and value pricing.
This will be a global celebration of Flight Design's 25th Anniversary. "It has been an exciting 25 years where we brought interesting new airplanes to markets around the world," said Flight Design CEO Matthias Betsch. "For this anniversary we have a special model created expressly for our worldwide dealership partners and their customers."
Flight Design will build the special Jubilee edition in a very limited series of 25 airplanes. The specially constructed airplanes add a personal touch, a unique equipment list, and special pricing. The Jubilee treatment can be applied to any of several models in production, including CTLSi, CTSLi (Supralight) or MCi. To insure quality and desirability, only 25 Jubilee airplane models will be manufactured.
"Each 25th Anniversary Jubilee airplane will have an upper management 'Godfather' assigned to personally monitor its build process to ensure our extraordinary level of quality is attained throughout every step and detail of manufacturing," added Betsch. Jubilee models will have a special inscription plate affixed with signatures of Flight Design's top managers, the name of that aircraft's "Godfather" and its sequential number within the series of 25 models built for the celebration.
Flight Design's 25th Anniversary Jubilee airplanes will have the following standard features: Rotax 912iS engine; Dynon SkyView avionics, dual 10-inch displays (for LSA/EASA 1,320-pound/600-kg CTLSi and MCi) or dual 7-inch displays for CTLSi at 1,040-pound/472.5-kg, or single 10-inch display for CTSLi; Dynon autopilot; 8.33-kHz communications radio with Mode S transponder; Garmin 796/795 GPS; electric stabilator trim; two upgraded Bose A20 Active Noise Reduction (ANR) headsets; input capability for mobile phone and music; special two-tone leather interior, including leather instrument panel and carpeting similar to the interior in Flight Design's new four-seat C4 mock-up as seen at airshows; and, a special 25th Anniversary theme exterior design painted on aircraft (not decals) with 25th Anniversary commemorative logo. A special series of options is also available at attractive prices. An extended warranty of five years for structural parts and three years for mechanical parts plus a 25th Anniversary leather flight brief case will complete the limited edition airplanes.
"These will be very special airplanes," said U.S. Sales Manager John Gilmore. "As they are offered around the world, only a small number are available for U.S. buyers. Having one of these Jubilee airplanes with their distinctive exterior paint design and special equipment will make them highly memorable and desirable."
The program is available effective immediately until the 25th Jubilee airplane is built with delivery occurring from February to June, 2013 at the rate of five airplanes per month.
FACTS ABOUT FLIGHT DESIGN GmbH