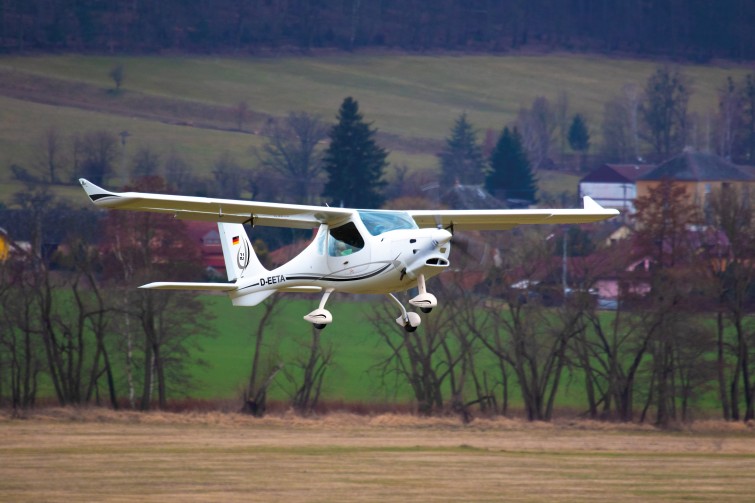 The State of the Lightplane Art
The F2 is the newest aircraft from Flight Design general aviation. One we think will define light aircraft safety, performance and comfort in a CS-23 certified aircraft and as an S-LSA. The F2 brings a fresh look at high-wing light aircraft design with class leading safety features and an innovative Garmin avionic suite.
The spacious 'extra-large' cabin of the F2 has been designed for extra rigidity and incorporates a combination of dynamically tested passenger seats, panel-mounted AMSAFE ™ airbags and an Airframe Emergency Parachute System (AEPS) for your safety. The atmosphere inside the F2 is improved with many clever design features, the modern heating/fresh air system and comfortable leather covered adjustable seats.
The structure of the F2 is manufactured to close tolerances in pre-impregnated carbon fiber for great structural strength and light weight. Flight Design general aviation has created an international team of light aircraft industry specialists and designers to collaborate on the F2. The advanced features of the F2 will make all your flights safer and more enjoyable but also a better environment for learning how to fly.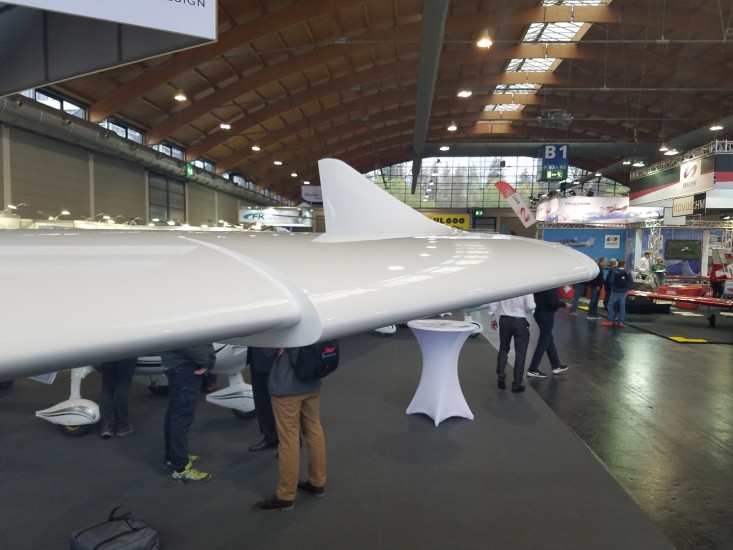 Advanced Aerodynamics
The F2 was designed specifically for CS-23 certification and to meet the ASTM F3180 low-speed flight characteristics of fixed-wing aircraft standard for departure characteristics, spinning, and stall warning. Sculpted winglets reduce induced drag, improve climb and cruising range. The smooth cantilever strutless wing also reduces drag and allows maximum visibility from the cockpit. The highly optimized airfoil of the F2 allows generous internal volume for the fuel tanks and is also structurally efficient.
The elegantly sculptured Carbon Fiber fuselage of the F2 is designed for extra-large volume in the cabin and to reduce drag while providing cleaner airflow to the tail. The large span stabilizer and separate elevator has been designed for optimum low speed control and better feel. In total, the aerodynamic features have significantly improved the F2′ stability, control and its overall ease of flying. While the top speed of the unlimited F2 will be impressively high, the F2 flies with efficiency and low fuel consumption at all speeds. CFD based virtual wind tunnel design tools were used to complete the efficient and refined aerodynamic design.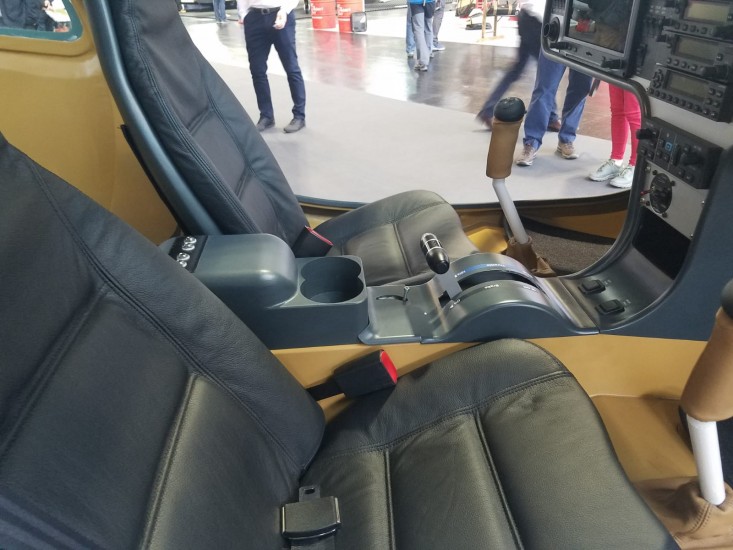 Get Comfortable
The 1.3 m (51″) Extra Large cabin width of the F2 has been designed to fit very tall and smaller people equally well. People with heights of 1.55 to 2.00 m (5′ 1″ to 6′ 6″) will sit more comfortably than ever. Ample storage space in the cockpit is provided by great access for bulky items stored aft of the cockpit. Four cabin windows and the sunroof in the rear give the cockpit an open feeling and improve overall visibility.
Large gull–wing doors held up by gas struts make entering and taking your seat easy. Three–point latches and door seals keep you secure inside. Comfortable leather covered seats with Confor-foam padding and 2-way adjustment offer incomparable comfort and easy adjustment in height and leg length. From these seats, the remarkable visibility of F2 will give you the feeling that you are in a helicopter with a sweeping view of the world. The well-engineered engine installation reduces airframe vibration and cabin noise.
Full dual controls and centrally located single lever throttle/brake quadrant are features of this ergonomically arranged cockpit. Easy-to-reach storage spaces and convenient map holders are thoughtfully provided. Modern ventilation and heat exchanger heating allow you to fly comfortably in all 4 seasons. The F2 allows up to 50 kg (110 lb) of baggage (total) to be safely stored in the giant storage area aft of the cabin area.
If you are finding it hard to find an Airplane that fits you, try the F2. We think you will be pleasantly surprised!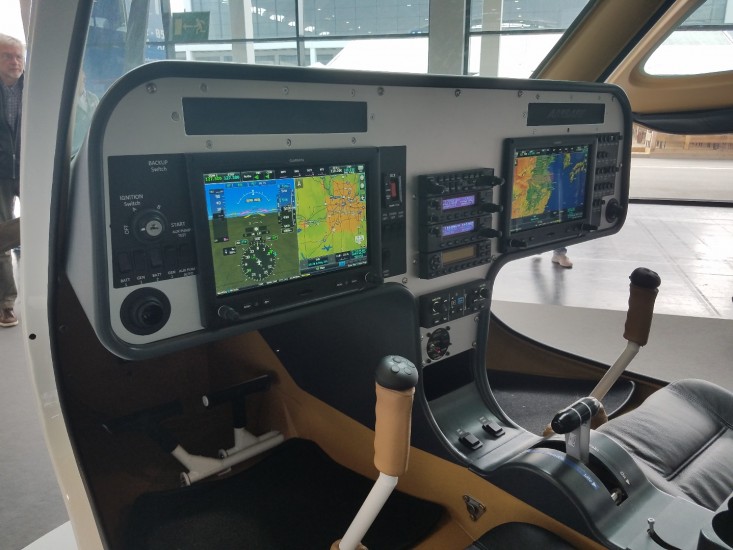 Avionics
Flight Design has been in the vanguard of the avionics revolution in light aircraft. With the F2 we offer an expanded range of avionics to suit your personal aviation mission. The F2 features some of the most advanced, yet easy to use avionics from Garmin including the G3X Touch screens for unmatched situational awareness, integration of the Rotax® engine management system, checklists and diagnostic functions.
The bright, high-definition G3X panel includes PFD, EMS and Map functions with a battery backup. With the Garmin GTX 345 transponder the F2 is compliant with the FAA's ADS-B 2020 "Out" requirements and also has the complete ADS-B "in" features like Satellite based weather, traffic and real-time TFR notices. Depending on your preferences, navigation is provided the G3X or by optional Garmin GTN 650, GTN 750 or GNC 255 Nav/Com. The Garmin GFC 500™ Digital 2-axis autopilot with Level Button rounds out this well-balanced avionic suite.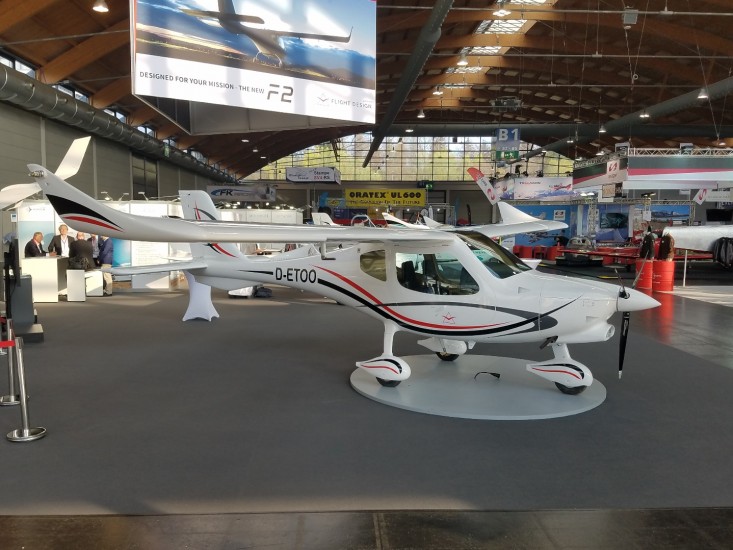 Standard Equipment
BRS Airframe Emergency Parachute System
AMSAFE panel mounted airbags
Inertial-reel automotive-style seat belts
Rotax 100 HP 912iS engine
Stainless exhaust system
Heat exchanger heat and panel ventilation
PTT buttons on each control stick
Electric stabilizer trim
Electric pre-selector flap control
Advanced DUC three-blade composite propeller
Adjustable, leather covered sport seats
Two cockpit storage compartments
Gigantic storage area behind the cockpit
Extra wide cabin doors with gas springs
One–piece panoramic windshield
Two wing tanks with 130 l (34 gallon) capacity
Fuel level gauges
Composite main landing gear with MATCO hydraulic disc brakes
Steerable nose wheel, Wheel pants
Fire Extinguisher and CO Detector
A selection of optional graphic patterns
Complete document package includes: Flight, Maintenance, Transition training and Parts Manual
Flight Design F2 SLSA - With Equipment Below - $185,205.00
Dual Garmin G3X avionics suite (Garmin GTR™ 225 com, GTX™ 345 ADS-B 'in and out' transponder, Garmin GMA™ 340 stereo audio panel w/Bluetooth, Garmin GFC™ 500 Digital 2-axis autopilot)
FD Night Flight package
Rotax 912iS Fuel injected engine
BRS 6-1350 parachute system
AMSAFE panel mounted airbags
AMSAFE Inertial-reel harnesses
Whelen LED Strobes, position and large landing light
DUC three-blade composite propeller
Stainless exhaust system
Heat exchanger heat w/panel ventilation
Electric stabilizer trim
Electric pre-selector flap control
Adjustable leather covered sport seats
Electronic fuel level gauges
Two cockpit floor storage compartments
Extra wide cabin doors with gas springs
Composite main landing gear with MATCO hydraulic disc brakes
406 ELT, Steerable nose wheel
Wheel fairings
Fire Extinguisher and CO Detector
F2 Additional Options
| | |
| --- | --- |
| F2 Tundra Wheels and fairings | $1,618.20 |
| Analog Back-up Instrumentation | $1,368.80 |
| Garmin G5 electronic back-up instrument | $3,400.00 |
| Garmin G3X XM/WX functionality (for Both G3X Displays) | $1,276.00 |
F2 Shipping Costs (Subject to Change)
| | |
| --- | --- |
| Container to the US East Coast location | $3,208.20 |
| Container to the US Midwest and West Coast | $4,019.70 |
| U.S. Government fees for security and processing | $1,200.00 |
| FD Shipping Insurance with ALLIANZ | $ 168.20 |



CTLSi


The Flight Design CTLSi is the latest version of the CT optimized for the Light Sport Aircraft rules of the United States and is shipped with the new 912Si fuel injected Rotax engine. Flight Design has integrated this latest engine into the popular CTLS and given it the designator "i" . The CTLSi has the following features:

>21% lower fuel consumption

>Larger amperage alternator

>Lighter Li Ion battery

>Lower 80 RPM trigger speed for ignition (smooth starts when cold)>

>Faster engine responsiveness

>Greater engine smoothness

>New Header Tank and associated plumbing along with a selectable fuel valve

>Less emissions

>Electric Trim now Standard
>Cowling changes

>One extra gallon of fuel

>New motor mount

>Relief from carburetor balancing requirement

>Perfect start-up and shut-down and idle….just like a car

>Cost is $12,800 more than CTLS at less than 22 lbs weight increase
The 2019 Flight Design CTLSi GT 2020


Flight Design USA is excited to announce the CTLSi GT 2020 Edition. The 2020 is the newest version of the popular Flight Design CTLSi featuring the 912Si fuel injected Rotax engine. Along with being compliant with the FAA NextGen requirements, the 2020 Edition includes our most popular options and comes fully loaded with easy-to-use avionics and safety systems.
The CTLSi GT 2020 Edition standard features include:
Dual Dynon 10″ SkyView HDX Touch panel with Dynon SV 2-axis autopilot
Synthetic Vision with terrain, runways and obstacles database
Choice of 7″ SkyView HDX MFD or Garmin 796 MFD center panel mounted
Dynon SV-261 remote 1090 ES transponder, 2020 approved ADS-B "out"
Dynon SV-470 ADS-B "in" system for ADS-B in for the SkyView screens
Dynon SV-X83 Com radio and Dynon SV-2S intercom, LEMO plugs
BRS 1350 LSA Full Airframe Parachute System
Level Button, Dynon wifi adapters
Whelen LED landing, strobe and position lights
ASTM compliant VFR Night flight package
Lighter Li Iron Phosphate main battery
3 axis trim system w/Electric pitch trim
Adjustable leather seats with pneumatic lumbar and cushion cells
21% lower fuel consumption than carbureted versions
Higher amperage alternator
Modern multi-port computer controlled injection
Greater engine smoothness, lower CO emissions
Total of 35 gallons of fuel
The Flight Design CTLSi GT 2020 Edition follows the Flight Design tradition of incorporating the most up-to-date engine, avionics, aerodynamic and structural technology available for Light aircraft in a comfortable and attractive package.